Samajam News and updates

---

Pisharody Samjam, Mumbai unit has recently organised a "Mentor session for the Younger Generation" conducted by Mr Ravi Pisharody, a well known corporate personality having varied global expertise in Strategic and Marketing management. He has excelled in his managerial roles with large corporates viz. Philips India, Castrol India and BP Singapore; and Tata Motors. After retirement, he is now involved in various roles of Independent Director on company Boards, as a Visiting Faculty in management institutes, and in the mentoring middle & senior managers in the corporate sector to prepare them for taking larger responsibilities. On the sidelines of the Mentor session, we had an opportunity to deliberate with him on various aspects of his corporate as well as personal life. We are pleased to share the gist of our conversation with Mr Ravi Pisharody.
K P Unnikrishanan & V P Murali
Can you take us through your early life – childhood, education?
Firstly, this is a great honour to be considered for being covered like this. I frankly do not think that I have achieved something very special, and even if I have, it is a result of my circumstances, training, opportunities and yes, some effort.
My family was of a normal middle-class background. My father, Panangattukara Pisharath Narayana Pisharody left Kerala and came to Mumbai in the early 1940s, looking for employment. But he relocated to Kolkata soon, as the company he got a job in, Volkart Brothers (now Voltas), moved him to Kolkata. I was born in 1955, as the 5th child to my parents. I have four elder sisters, and one younger brother. My first 25 years were spent largely in Bengal. I have good memories of family life in Kolkata, which include active participation in the Calcutta Malayalee Samajam, and my sisters were among the first students of the now famous Kalamandan Govindan Kutty School of dance. As a result, I can also speak Bengali fluently.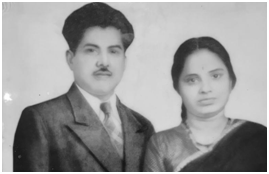 Parents – Narayana Pisharody & Sitha Pisharasiar
I and my siblings remain eternally grateful to our parents, that, while they themselves did not have the opportunity to get much formal education, they emphasised education and higher studies for their children. As a result, all my elder sisters have an additional qualification over and above their Bachelors degree, and were able to pursue professional careers of their own, before and after marriage, till they retired.
For my part , I started doing very well in my studies right from Class 2( I recall from that year ) standing 1st or 2nd regularly . These were moments of great pride for my parents. This did result in considerable self-pressure, though parents never showed any great excitement or disappointment at my results.
I don't think that I spent long hours studying those days. One thing I used to do, was paying proper attention in the class and revising daily at home, what has been taught in the class the same day. That practice even continued while doing engineering as well as management. In fact, the days I did not get a chance to do this, I used to feel very uncomfortable. I realized that though a simple task, many did not do this as a practise, and they tend to study only before exams.
I was very interested in games, and used to play a lot every evening almost, and ended up representing school and college and even Philips/Castrol in sporting events. I believe sport is very good for the mind, as well as inculcating teamwork skills. I feel very distressed to see that many of today's children do not have time for sports.
What was the thinking behind your career choices?
Looking back now, my answer to this question is quite revealing! My joining IIT for engineering almost happened by default. My marks were good in Physics, Chemistry and Maths. Which meant those days, for many like me, the choices were engineering and medical. I was quite clear that I did not want to become a doctor. And since, I had got into a prestigious institution, IIT Kharagpur, with a high rank, I joined IIT.
Later on when passing out from IIT, I had to choose between pursuing an engineering career (probably by going abroad for higher studies) and a management career. I made a very conscious choice in favour of management, when I got admission into Indian Institute of Management for my MBA degree.

To some extent, I followed my instinct in those younger years .I feel vindicated now, as I have not regretted this decision, as I felt very comfortable quite early in the corporate environment, till almost the day I retired in 2017.
My parents emphasis on education was again evident , when after my engineering graduation from IIT , I had a job offer , but I was supported and encouraged to pursue my MBA , when I got admission at IIM. This, despite the fact my father was almost 65 then, and the family financial circumstances were quite stressed.
Could you briefly talk about your corporate journey?
The very early days of IT and Software jobs were just beginning in 1979-80, when I was completing my management studies. Tata Burroughs (there was no TCS then) was conducting IQ Tests and interviews, and picking up people from IIT/IIMs. I too sat for the test, and was selected. But against much advise,I did not take up the job, as I was not keen to work on software as a career. Many people felt that I had made a wrong choice , as getting into Tata Burroughs was seen as an assured posting in the USA.
Instead in 1979, I joined Metal Box Ltd,as a Management Trainee, where I had done my summer project while doing management studies. I spent only 2 years with the company, as they were not doing very well.
I joined Philips India in 1981 and I remained with them for 18 years. I joined as Sales Officer (Eastern Region) for the Consumer Electronics and Lighting products, and was posted at Gauhati. This was an important formative role in my career, as starting as a Field Sales Officer, gave me tremendous grassroots experience and customer understanding. In fact, at the Philips interview, one of the interviewers was not keen to take me, as they felt that with my B.Tech & IIM degree, I would not last in the rough life as a Sales officer, travelling continuously to small towns by bus etc. It was tough, but in this role, I was very independent, and I got tremendous exposure to various company activities, and it was a great period taking risks, learning how to deal with dealers, sales depots.
After 3 years, I was promoted as Area Manager in 1985, and moved to Delhi. Here I subsequently became a Regional Manager for North region based at Delhi .In 1991, I moved to Pune to take up my first country role , as Marketing Manager, Audio .Subsequently , I was made Chairman of Audio Business Group in 1995 based at Pune, now also overseeing manufacturing and product development. Finally, I moved to Mumbai in 1998, as Vice President for the entire Consumer Electronics Divn.My roles and experience in Philips shaped me a lot and had given me a strong foundation in corporate life. My international exposure started as I made my first overseas trip in my life to Singapore in 1991, and became part of global networks and started travelling to Philips in Singapore, HongKong and Netherlands regularly.
I joined Castrol India Ltd in 1999 as Vice President (Marketing) and within a year became Regional Marketing Director for India, Africa and Middle East and I continued in that position till 2004.During this period; I was inducted on the Board of Castrol India Ltd, as Marketing Director in 2002. In 2004 I was deputed to Singapore as Global Marketing Manager – Motor Cycle Space, heading a multi-located global marketing team. Relocating to another country and living there with family is a great learning and developmental experience for the entire family, and I feel blessed that we got this opportunity. We came back to India after 3 years in 2007. Adjusting back to Mumbai was not difficult, as we had already lived in Mumbai earlier and had a good social circle. If I had gone abroad to live at an earlier age, it could have been more difficult.
On my return to India, I was 52 years then, and I felt I needed a different role and a more challenging assignment. The offer came from Tata Motors in Sept 2007 to join as Vice President- Sales & Marketing for Commercial Vehicles. Within 2 years, I was promoted as President and Head Commercial Vehicle Business Unit and then in 2012 I was made Executive Director on the Board of Tata Motors Ltd, one of the largest listed entities in India with a revenue of Rs.40,000 Cr and presence in 25 countries.This was a phenomenal opportunity, as this was a very vibrant and challenging role. The business I had to manage was a tough one, as it was a cyclical business, with entrance of many new competition, considerable media and public attention, and continuous impact from continuously changing govt regulations. However, it was an exhilarating and very satisfying 10 years, and once again I feel blessed with having had the opportunity to do this role. In this period, I also had the satisfaction of growing Commercial Vehicle International Business, and overseeing launch in many new countries.
After leaving Tata Motors in 2017, presently, I am pursuing part time activities. I am an Independent Director on the Board of 3 companies, and a Visiting faculty at management institutes such as SP Jain, Goa Institute of Management etc. I recently became a certified leadership coach from Coaching Federation of India, and conduct coaching assignments for mid-level and senior managers.
In my current phase, I intend to be able to spend more time with family and at family functions, and be able to travel to various places with more time to spare.
In summary I wish to say , that I have had a fulfilling corporate journey , and in every company I worked in , I am grateful to those managers who saw some ability in me, and placed me in very crucial roles.
Who is your Role Model?
I do not have specific role models. However, there are various individuals who I have come across in my life, in whom I admired a specific aspect or attitude, and I try to model those attributes.
The role my parents have played in my life is tremendous , My father, I remember as someone who had to work very hard all his life , till almost his last day , but still maintained a very jovial sense of humor. My mother was very far-sighted and supportive, and being a house-wife, we saw her more often, and as a result has had a big role in shaping all our family values in life .
My wife, Anita has a very bright, friendly and cheerful disposition , (which I lack! )and has been very accepting and adjusted to the hectic lifestyle I had to lead , including relocating houses 10 times in various cities thus far !!
With the advancement of technology, it has almost become 24 x 7 working culture resulting increased stress level. Your views.
Yes,this is quite an issue. This creates a lot of pressures and distractions. When I look at this situation emerging for the younger generation, including my children, I feel somewhat relieved that I do not have to deal with this situation so much now, given that I am towards the end of my professional career. However, we should not forget that Technology has given a lot of benefits to modern society in terms of ease of communication , globalisation ,speed and productivity , India's IT sector would not have been able to provide so many jobs , without this advancement of Technology .
In fact, I don't think the youngsters are so much concerned about the situation, and see the advantages more.
As regards stress, I believe much of this is self-created, because of our own focus on the outcome and results, and the individual's need of being judged well by others. Different individuals will react differently to a pressure situation with the same boss or environment. I think the best way to deal with, and use technology, is to be able to focus on the present task, and what one is doing now. Multi-tasking to some extent is a myth, as if you are doing something important, distractions can affect the quality of outputs. Many a time outcome or deadlines are artificial and urgency is created. Perhaps, you can do it in 3 / 4 ways – develop strength, assess what is important and what can be done, Say "No" or I can't do it when needed – it won't affect your career and focus on one task. Perhaps its easier said than done, especially for the youngsters but you have to start in that direction. Some stress is healthy. But you have to train yourself. You have to think clearly and be resilient.
Don't you think the present corporate structure is complex?
It's very complex. But there is no choice, as geographic reporting lines, and functional global or national reporting lines are inevitable. Business itself is becoming very complex, and structures are only reflecting that aspect.
And when managements change, to get performance improvements, they will try to change structures.
So my advice would be to accept this situation, and try to develop skills to deal with this.
We often hear that employability is the major concern today - people having qualification but skills are lacking. How can one address this issue?
This is a particular challenge in India due to high population. But there is an irony here. Despite a high level of unemployment, when you try to select someone for any role, low or high skill, it is difficult to find right person for the right job. People are not getting training in the right skills, and more importantly, the right attitudes.
The present education system is not very good for skill development. To some extent, the Indian education system has been based on marks/grade, beating the examination system and not developing the intellect in you. In many developed countries it is quite different. The good news is that more and more Indian schools are adopting some newer systems to address this issue. Parents also need to understand this situation. Developing multiple skills is more important than focus on grades only. This is true even after people start working.
How have you handled set-backs? Any regrets in life?
In the sort of corporate roles that I had in my career, there are many set-backs, from which one has to recover. But the trick is not to take it personally .In fact, the major cause of stress, is to link one's persona and ego to role. All roles are temporary. It took me some time to realise this, and I wish I had developed that attitude earlier in life.
In terms of my career development, I have no regrets at all. However , personally , when I look back, one regret I have is that my father in his entire life , and mother partially , were not able to be part of the more comfortable lifestyle that I was able to lead in the later part of my career.
Performance has become the sole criteria for survival in this competitive world –your views
Yes, there is lot of emphasis on performance. In some ways, it is ok. In our educational lives, performance was the only thing that mattered. In sports also, performance is the only factor. That it is become the sole criteria in corporate roles should be welcomed now – as compared to the periods, when family backgrounds, personal contacts etc were making a difference.
However, youngsters need to learn quickly, that performance in professional roles in any type of company and institution, is not so much about what you do by yourself, but is much more dependent on very good inter-personal effectiveness.
What are the challenges that the younger generation will have to face and how can they prepare themselves
There are an increased set of challenges, but also increased opportunities.
Some of the challenges around technology use we have already covered. Here the trick is to use technology to your benefit, and not let it run your life.
In my opinion the younger generation's biggest opportunity and challenge is around the multiple career options that they can choose from. We need to first accept that this is an opportunity –but deciding what to choose is a big challenge.
Unlike in our times, when options were limited, today media, journalism, clothing/jewellery design, event management, start ups vs a regular job, job in India vs relocation abroad - are all options. Trying to find your inner calling is important, but should not be rushed. If you are not sure what you really want to pursue, don't hurry. Don't get over-anxious to find it. Here parents have a big role to play.
There are many more careers and industries that are prestigious these days, but look for the internal spark. Keep watching your own tendencies and what gives you comfort. In looking for this, some risks in type of roles, companies, locations, will need to be taken.
The other major challenge for youngsters is around huge consumption of digital and social media – and as a result, distractions from your own purpose, the tendency to compare oneself with others, and also being overly much influenced by peer group. This is not completely avoidable, and thus having the right peer group is critical. In fact, sometimes the peer groups and young seniors are better placed to guide/advise and support, more than parents also.
Last but not the least is around managing parental expectations, which are much higher today, than they were even 20 years ago. To deal with this, once again, having an informed, balanced and supportive peer group will be very useful.
You had a very successful career. Can you describe success?
Success is being happy with your current circumstances, and being able to look back on your life, without much regret . I would say one is successful if by and large, one is happy with the family circumstances and what one is doing to keep oneself occupied .Anyone at any position or economic strata can consider themselves successful, if they genuinely feel like this.
For me, I never had a goal of aspiring to reach a certain level or achieve a specific designation. In fact , designations can be very misleading these days. Being able to add value, make a good contribution, growing in opportunities and helping others to grow is what one was seeking to do.
I feel grateful, that I am able to keep doing that, even now, when I am a free- lance person.
Memory / thoughts connecting native place/birth place and people around
As I mentioned earlier, I spent my first 25 years in Kolkata and have very good memories. People in Kolkata are very friendly and helping nature. It has a very rich culture. I cherish my memories of watching India cricket matches, East Bengal Club football matches, attending Durga Pujs. We had lots of Malayali friends, and families used to visit each other often .We also used to attend various cultural programmes arranged by Malayali Samajam. At home, my mother used to cook herself, and only Kerala style food. My mother used to speak only Malayalam.
Those days, we did not get many chances to visit Kerala. Average was once in 5 years. However, in the recent past, we visit Kerala for various occasions and stay for few days.
Family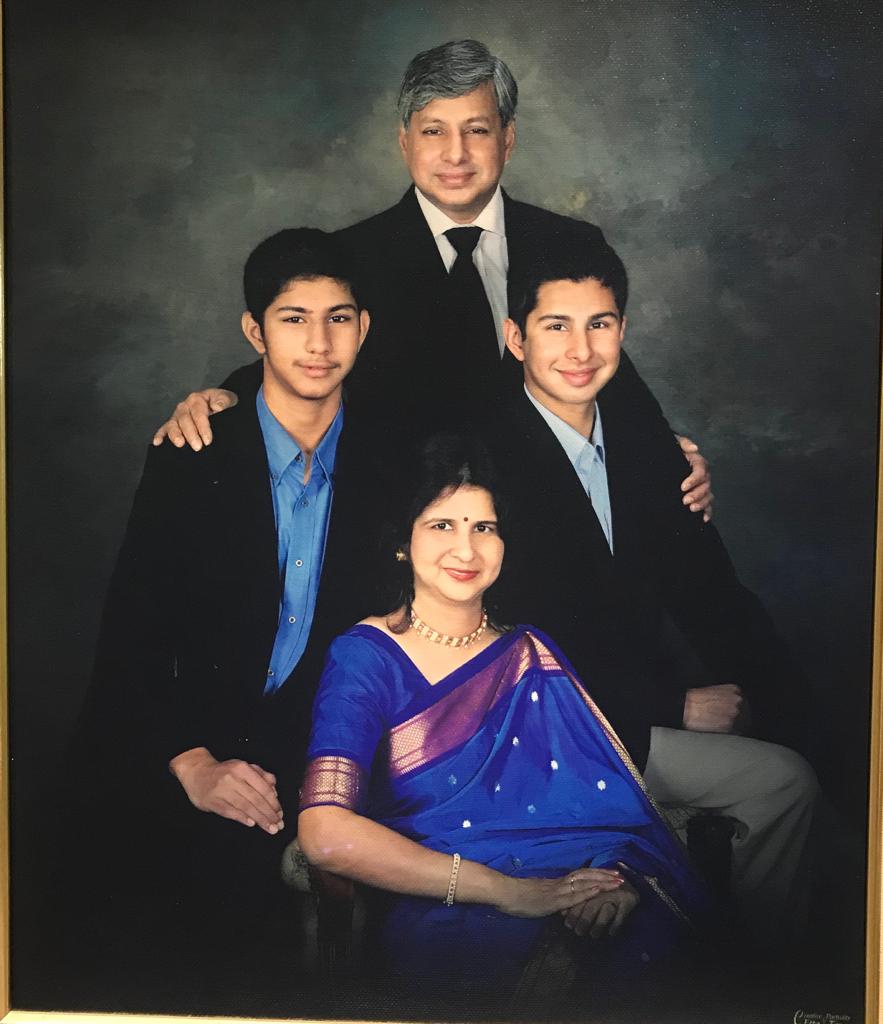 Anita from Kattoor Pisharam, whom I married in 1984, is my wife. She has been very supportive. She is an Engineer, and is the daughter of Dr T Ramchandran, who was a professor and Head of Metallurgy in REC of Karnatata. Anita worked as an IT professional for 17 years, and is now busy with an NGO called Children's Movement for Civic Awareness.
Siddharth – Elder Son. His schooling was in Pune and Mumbai, and his graduation and MBA post-graduation was from the US .He is married and presently working as Associate Director with Temasek, Singapore.
Aditya – Younger Son. His schooling was in Mumbai and Singapore .He graduated from New York University . He is working with Mckinsey, Singapore and is now on a work sabbatical doing his MBA in Singapore.
vvvv
---
അറിയിപ്പ്
തുളസീദളത്തിൽ വൈവാഹിക പരസ്യത്തിന് 01 -02-2019 മുതൽ 600 രൂപയിൽ നിന്ന് 800 രൂപയായി പരസ്യ ചാർജ്ജ് വർദ്ധിപ്പിക്കുവാൻ 23-12-2018 ലെ പത്രാധിപ സമിതി യോഗത്തിൽ തീരുമാനിച്ചു.ഇപ്രകാരം 800 രൂപ അടക്കുമ്പോൾ തുടർച്ചയായി രണ്ട് മാസങ്ങളിൽ പരസ്യം പ്രസിദ്ധീകരിക്കുന്നതാണ്.

-മാനേജർ
---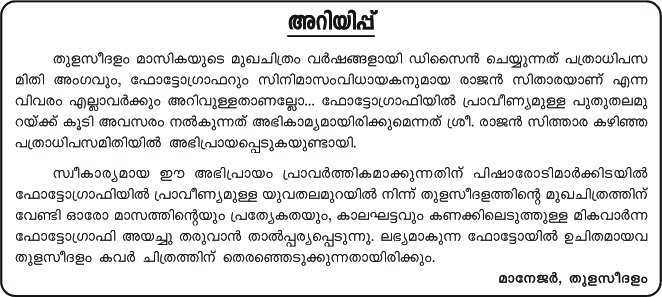 ---

---

---
ശാഖാ ഭാരവാഹികളുടെ ശ്രദ്ധക്ക്

സംയുക്ത ഭരണസമിതി യോഗങ്ങളിൽ പല ശാഖകളുടെയും പ്രാതിനിധ്യം ഉണ്ടാവുന്നില്ല എന്നത് ഖേദകരമാണ്‌. വളരെയധികം കാര്യങ്ങൾ തീരുമാനിക്കാനും നടപ്പിലാക്കാനുമുള്ള സമയത്ത് ശാഖാംഗങ്ങൾ അഭിപ്രായങ്ങൾ ഏകോപിപ്പിച്ച് കേന്ദ്ര തലത്തിൽ ചർച്ച ചെയ്യേണ്ട ഉത്തരവാദിത്വം എല്ലാ ശാഖാ ഭാരവാഹികൾക്കുമുണ്ട്. സംഘടനാ പ്രവർത്തനങ്ങൾ സുഗമവും സുതാര്യവും ആക്കി മുന്നോട്ടു കൊണ്ടുപോകുവാൻ എല്ലാ ശാഖാ ഭാരവാഹികളുടെയും സഹായ സഹകരണങ്ങൾ വേണം. വളരെ കുറച്ച് ശാഖകൾ വളരെ ഭംഗിയായി പ്രവർത്തനങ്ങൾ മുന്നോട്ടു കൊണ്ടുപോകുമ്പോൾ പല ശാഖകളും നിഷ്ക്രിയമാണോ എന്നൊരുസംശയം ഉണ്ടാവുന്നുണ്ട്. അത് സംഘടന നടപ്പിലാക്കി വരുന്ന സഹായപദ്ധതികൾ അർഹരായ അംഗങ്ങൾക്ക് ലഭിക്കാതെ പോകാനുള്ള സാഹചര്യം ഉണ്ടാക്കും. അതുകൊണ്ട് ശാഖാ ഭാരവാഹികളുടെ സജീവ സഹകരണം ഉണ്ടാവണമെന്ന് അഭ്യർത്ഥിക്കുന്നു.
എല്ലാ ശാഖകളും തങ്ങളുടെ ശാഖയിലെ അംഗങ്ങളുടെ പൂർണ്ണ വിവരം അടക്കം അഫിലിയേഷൻ ഫീസായ 1000 രൂപയും അപേക്ഷയും എത്തിച്ചു തരണമെന്ന് അഭ്യർത്ഥിക്കുന്നു.
എന്തെങ്കിലും സംശയങ്ങളോ ആശങ്കകളോ ഉണ്ടെങ്കിൽ ജനറൽ സെക്രട്ടറിയെയോ അനുബന്ധ ഘടകങ്ങളുടെ സെക്രട്ടറിമാരെയോ വിളിച്ച് സംസാരിക്കാവുന്നതാണ്‌. കാലഘട്ടത്തിനനുസരിച്ച് നയമാറ്റങ്ങൾക്ക് എല്ലാ ശാഖാ ഭാരവാഹികളുടെയും സജീവ പങ്കാളിത്തം അത്യന്താപേക്ഷിതമാണ്‌.
ജനറൽ സെക്രട്ടറി